ACTIONS PEOPLE ARE TAKING!
Against the MinuteMen!
Between July 20th to 22nd, 2005
IS OVER!
VR Sit-IN
E-mails of Every Shape Size and Color
For MORE INFO ABOUT THE ACTION CLICK HERE
CLICK=ACTION
The Virtual Sit-In Against Anti-Immigrant Websites,
July 20-22nd, 2005 - IS NOW OVER.
THANKS TO THE 27,000 Plus Protesters World Wide Who Joined!

We will put up a Report on the Action On Monday.

LATEST UPDATE: SWARMTHEMINUTEMEN.COM
Enough is enough.

We reject everything about the minutemen. The minutemen function and exist when the rest of us, the vast majority of us, remain silent. Even in an environment of fear and uncertainty we all know that immigrants are not the reason for America's problems, nor should they be the powerless scapegoat. Because the vast majority of us look upon slavery, japanese interment and manifest destiny as sick, tragic pages in our history, we have no tolerance for these hyper-patriotic bigots, masquerading as virtuous citizens. It is our intention to resist, sabotage, and destroy this project before it gets any farther down this road of organized hate and violence.

to read more.... click here
What we propose to do about it:
We want you to do this yourself. We must take direct action to stop the MinuteMen. We can swarm the MinuteMen and make all of their communication systems useless. Together, we can conduct information warfare against these modern day white hooded vigilantes.
We must let the MinuteMen know what the world thinks of their violent, racist plans. With your help, we can swarm the MinuteMen and stop this organized racism and hatred in its tracks.
When the MinuteMen restart their border patrols again in June, we can physically interfere with their operations. Go to wherever the MinuteMen are in your area and stop them from operating. We will provide more info later on their locations. Until then, we can anonymously and autonomously act against the MinuteMen using electronic disturbance.
Swarm the racist minutemen!
Send us your favorite tactic for sabotaging the Minutemen Project anonymously
by clicking the button below and typing

info@swarmThe
minuteMen.com

in the To: field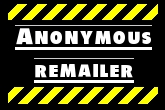 We will add them
to our list of actions being taken .
All e-mails sent to us through the "anonymous remailer" will be untrackable so leave out you name and identifying information and do tell all so we can be the best reporters of justice that we can be!
for info on how an anonymous remailer works, click here.