ACTIONS PEOPLE ARE TAKING!
Against the MinuteMen!
Between July 20th to 22nd, 2005
IS OVER!
VR Sit-IN
E-mails of Every Shape Size and Color
For MORE INFO ABOUT THE ACTION CLICK HERE
CLICK=ACTION
Telephone Campaign:
You definitely should NOT pick up the phone and call the minutemen at 520.457.3008.
When people call, they have reportedly been dialing *67 and then the number so that their phone number does not show up on their caller id.
People might tell them what they really think, or just politely ask questions and waste their time. Every minute the MinuteMen spend with these people is time they're not talking to a volunteer.
We hear some people are calling them over and over and pretending to be a different person each time.
If you want to, you can send us an e-mail through the "anonymous remailer" located on the sidebar to the right and tell us what you said.
We will share it with everyone else and we can all learn from each other what works and what does'nt.
Of course we don't suggest that you actually DO any of this, we're just sharing information. We really Don't think you should do any of these things, you silly "communist/anarchist/criminal reactionary"!
To return to the main page, click here
Send us your favorite tactic for sabotaging the Minutemen Project anonymously
by clicking the button below and typing

info@swarmThe
minuteMen.com

in the To: field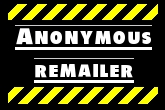 We will add them
to our list of actions being taken .
All e-mails sent to us through the "anonymous remailer" will be untrackable so leave out you name and identifying information and do tell all so we can be the best reporters of justice that we can be!
for info on how an anonymous remailer works, click here.