Tört és Redukált Nyelvek Intézete /
Institute of Broken and Reduced Languages
---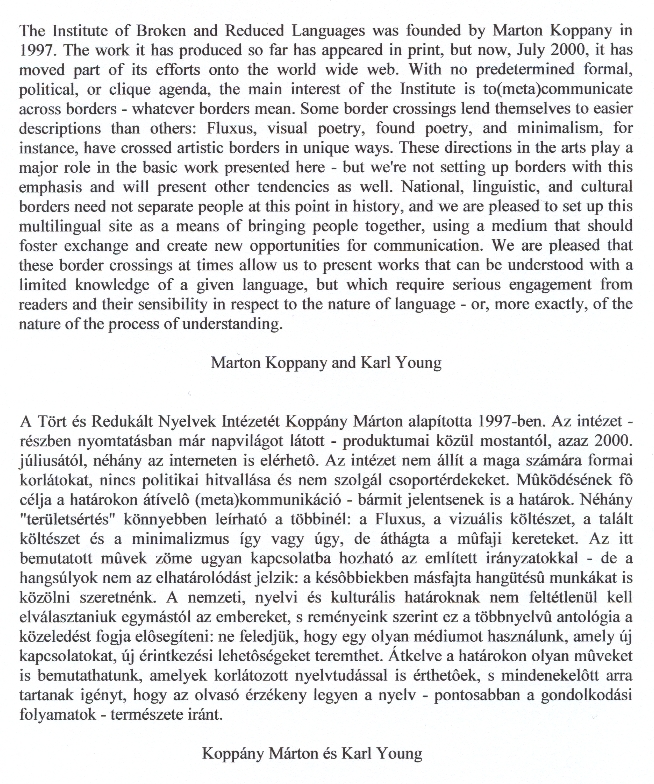 ---

David Antin:
Idegen az ajtóban

---

George Brecht:
Táncok, események, feladványok

---

David T. Doris:
Zen-kabaré

---

Koppány Márton:
HA MAJD

---

Karl Young:
Jelölési rendszerek - és az olvasás mûvészete

---

Armand Schwerner:
1. Tábla

---

Jane Augustine
Két verse

---

Michael Heller
Három verse

---

Peter O'Leary
Két verse

---

Jesse Glass
Két verse

---

Bob Grumman
Négy verse

---

a KALLIGRAM folyóirat
2000.decemberi
tematikus száma konceptuális,
minimalista, konkrét,
vizuális stb. költészet

---

Jön:

Bern Porter
írásai



.

David Antin:
The Stranger at the Door

---

George Brecht:
Dances, Events, Puzzles




---

David T. Doris:
Zen Vaudeville

---

Márton Koppány:
Vicious Circles in Infinity

---

Karl Young:
Notation and the Art of Reading

---

Armand Schwerner:
Tablet 1

---

Jane Augustine:
Two Poems

---

Michael Heller:
Three Poems

---

Peter O'Leary:
Two poems

---

Jesse Glass:
Two Poems

---

Bob Grumman:
Four Poems

---

KALLIGRAM Magazine
Special Issue 12/2000
an anthology of conceptual, minimal, concrete, visual etc. poetry

---

Coming soon:

work by
Bern Porter



---
email címek:

To contact Márton Koppány, use this e-mail address:
kopp1any at yahoo dot com
(We style it thus because this method of presenting addresses is supposed to prevent automated software from harvesting addresses for spam. We don't know if it works, but we're trying.)

To contact Karl Young, use the mail box
on the Light and Dust main menu.
---
Light and Dust
A Tört és Redukált Nyelvek Intézete,
valamint a Light and Dust közös vállalkozása
This is a cooperative presentation of
The Institute of Broken and Reduced Languages
and Light and Dust