V I B E K E J E N S E N : S P A C E S o f N E G O T I A T I O N
NB! Our publication: The City between Freedom and Security now available in bookstores!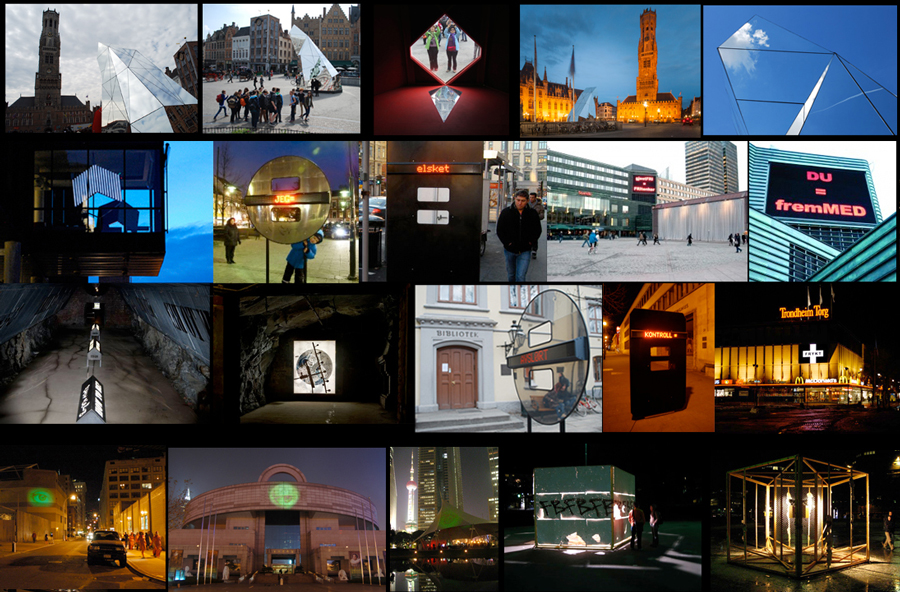 These works are situated within a critical spatial practice *. They investigate the poetic power and political potency of art through
sensible and provocative alterations of the present. They seek to inspire an opening up of possibilities for individual and collective
existence by, at each moment and in each context, occupying cracks and ruptures within the dominant logic of society.
* What Is Critical Spatial Practice?

1:1 c o n n e c t
D i a m o n d S c o p e
Triennale Brugge 2015

i n n S Y N = I N N s i k t
Urban Interventions
Oslo 2010

S I T E I N V E S T.
Urban Interventions
Trondheim 2009

D O R A B U N K E R
Public Hearing
Trondheim 2009

M A N M A D E
Urban Intervention
Oslo 2010

N I G H T _ W A T C H
Urban Intervention
Shanghai 2008

N I G H T _ W A T C H
Urban Intervention
New York 2006

b l u e _ w a l l
Urban Intervention
Oslo 2007

F R E E _ S P A C E
Urban Interventions
New York, Graz 1997

B e r l i n _ S t u d i o
work in progress
2016-

E N E R G Y W H E E L
Interactive Light Sculpture
TrønderEnergi TRD 2012

T R I G G E R
Interactive Light Sculptures
University of Oslo 2011

H E G R A F O R T R E S S
Light Sculptures
Norway 2010


u n E Q U A L s i g n
.NO Gallery
New York 2011

I N S I G H T
Oslo Museum
Oslo 2010

E Y E s h o t
Bronx Museum
New York 2006

I F Y O U S E E
Smack Mellon
New York 2006

c o r n e r e d
Galleri F 15
Moss 2006

e a s t _ w e s t
Platform China
Beijing 2005


w h i t e n e s s
Trondheim Art Museum
Trondheim 2005

s c o t o p h i l i a
Galleri F 15
Moss 2005

s l e e p e r _ c e l l
Rogaland Art Center
Stavanger 2005

m i r r o r _ s c o p e
Hordaland Art Center
Bergen 2004

b l i n d _ s p o t
Priska Juschka Fine Art
New York 2003

C l o s e d C i r c u i t
Trondheim Art Museum
Trondheim 2002


S n o w in the
L i v i n g R o o m Theaterlab NYC 2014


u p a g a i n s t
t h e w a l l
Beijing 2005


e x t r a _ o r d i n a r y
Salzburg, Vienna 2005

d a r k r o o m
index of photographs 1991-2005


c a m e r a _ o b s c u r a
New York, Trieste, Bogota 1999-2003


h a l f t r u t h
K E Center
Shanghai 2008

M I A U
New Ålesund
Spitsbergen 2007

G U N s h o t s
Priska Juschka Fine Art
New York 2003

| | |
| --- | --- |
| ARTbyJENSEN modified 07:07:2016 | |