Unlimited Free Space: Comprehensive Waterfront Plan
Transcripts - Wide angle space...
---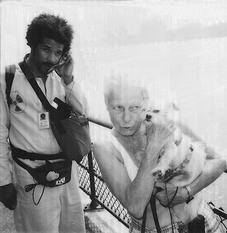 ---
The heavy part of the interview begins...
| | |
| --- | --- |
| ND | This is about space and the possibilities of unlimited free space. Do you feel that you have any thoughts, feelings, ideas, or experience with unlimited free space? And could you describe them? |
| | |
| --- | --- |
| SHANTI | Well, you're structuring it. You're saying it's unlimited. It's not unlimited but, it's - how do you see it as unlimited? |
| | |
| --- | --- |
| VJ | We're not necessarily talking about this exact space. Just, in general - When we say unlimited free space, do you associate anything? Do you have any thoughts about what that might be? |
| | |
| --- | --- |
| SHANTI | Unlimited free space. Sure, I'd be an angel. I'd be hangin' out - |
| | |
| --- | --- |
| SHANTI | That's one attribute of free space. The other one would be, I'd be a dolphin. I could see unlimited free space in deep water and high altitudes. I could also see unlimited free space on top of a mountain. I could see unlimited free space if I traveled in the plains of the states. The plains are just vast amounts of free space. I see free space if I were riding down a highway and I didn't see anything but the horizon. That would be more free space. |
| | |
| --- | --- |
| VJ | Do you think of unlimited free space as possible? |
| | |
| --- | --- |
| SHANTI | I see freer space. Now, we'll talk about relative. I'm giving you my parameters of free space. Are you gettin' a kick outta this? [laughs all around] Well, that's what you're supposed to do. Get a kick outta this. |
| | |
| --- | --- |
| SHANTI | Okay. One of the reasons I come here is because I like the opportunity provided by this access to open space. As opposed to free space. Wide angle space. Wide. I have an enormous opportunity to get fed from openness. And I can feel free in openness. I can really free. Besides, it's cooler in the summertime. It's breezier. It's unobstructed sunshine - unless the obstruction is a cloud. |
| | |
| --- | --- |
| VJ | Or a tall building - but not on this side. |
| | |
| --- | --- |
| SHANTI | No, here - this is all relative. This is unobstructed - except by clouds. I have an opportunity to observe little gangs like this guy with his water spout. [a water scooter zooms past] He's gettin' his kidneys kicked around somethin' good. Lookit that! That's a pylon. That's a pylon. [a pylon floats past] |
SHANTI

From an old pier. Yeah. Boy, that is really ugly in a sense and beautiful in another. This is really amazing. Truly amazing. The things that you see floating up and down here.

So, who's paying for all your film?
| | |
| --- | --- |
| ND | Well, this part of the project is being basically sponsored by the House of Architecture. |
| | |
| --- | --- |
| SHANTI | Oh, that's nice. The house of architecture leads me to my next thought. You see this? Between here and up to the state park before the bridge, all you have is a marina - one little marina. Somebody's cornered the market. There's obviously enough opportunities for other marinas to be built. If it's not - there's nothing they can't do with a little bit of money. They built the East Side up because it's the East Side. But, they could do much more up here and they really ought to. It'd be really nice. I know that by the year 2010, they have projected some - |
| | |
| --- | --- |
| BK | Yeah, the waterfront plan. |
| | |
| --- | --- |
| SHANTI | The waterfront plans that oughtta come all the way up here - but, they've gotta clean out the debris. And I don't mean just this debris. Because that is pretty god-awful. It oughtn't to be. This is a first-rate unnecessary state of affairs. Truly, a first-rate unnecessary state of affairs. |
| | |
| --- | --- |
| ND | In this architectural perspective, do you think that there could be something besides marinas that might help? |
SHANTI

Yeah. More parks. More areas for piers. They could have piers, jetties, clean this up. Definitely clean this up. They oughtta have massive volunteer programs to start doing more work around here. Right now, what they wanna do is remove the impediments to the gentrification of Manhattan. Manhattan is futuristically - uhh-

[looks over at photo] How did it come out? It doesn't look like a log. Looks like a fish. Like a dolphin. [all laugh] Interesting. Huh? Real interesting.
| | |
| --- | --- |
| VJ | It's almost like you're touching it. |
| | |
| --- | --- |
| SHANTI | That's even more interesting. Good observation. Good, very good observation. Lemme think. |
| | |
| --- | --- |
| ND | You were speaking about the gentrification of Manhattan. |
| | |
| --- | --- |
| SHANTI | Yeah. The gentrification of Manhattan ultimately means getting rid of the third world - which they are systematically doing. So, I'd say that by the year 2010, they should have done a pretty effective job because of the rent situation. Nobody'll be able to live here except the wealthy. |
| | |
| --- | --- |
| VJ | You think that's a good or bad thing? |
| | |
| --- | --- |
| SHANTI | Well, I have two ways of looking at it. Sure, it's good on one hand. Sure, it's very good. It's excellent. |
| | |
| --- | --- |
| SHANTI | On the one hand: it's excellent for those people who won't appreciate the opportunity to have free space. It's not gonna be at all free. It's gonna be damned expensive. But, even though they speak of a wider and wider disparity between the wealthy and the poor people - or the ordinary people - the people who make it possible for the wealthy to be wealthy - there's not an ounce of gratitude toward those people - not an ounce. But, even though there's a great disparity - I'm givin' you the parentheticals - the principle being that there are more and more wealthy people now - there are a lot more; a lot more, a lot wealthier. They have to have their country club and it's gonna be called Manhattan. Manhattan Island. Come to the country club of Manhattan Island. You'll see that. You really will. |
| | |
| --- | --- |
| VJ | We were gonna ask you that question. What you think what would happen if they moved away all the economic activity off the island of Manhattan. |
SHANTI

It's a country club. It's a country club for the wealthy. Absolutely. You wait, you'll see, because you're young enough to see the predictions that I make.

I could give you another real negative scenario. That was a negative-positive scenario, or positive-negative scenario. I could give you a negative scenario because I could say the polar cap's melting at the rate of blub blub blub a year. And there will be big fucking tidal wave that's gonna come over here and just - weoohhhh! Take this up. And if you think I'm kidding - no - that's going to happen. That is inevitable. Maybe when you're an angel.
| | |
| --- | --- |
| SHANTI | That's going to happen. That's going to happen. |
| | |
| --- | --- |
| VJ | That's what people always say about my country, which is Norway. Norway's gonna be the great national park of the world because it's this beautiful nature park with mountains and waterfalls. And it's very exclusive. They don't wanna let anyone in. They don't wanna share with anyone. It will be just preserved. |
| | |
| --- | --- |
| VJ | A beautiful natural reserve where all the rich people in the world can come and hang out. |
SHANTI

You have to have a contrast to some of the third world islands. You have to have the contrast. Although, the third world islands - some time, a big tidal wave will just inundate them all - but you have the same phenomenon occur on the west coast. There'll be just marked geographic changes. I don't know how this is gonna effect the northern countries so much.

I've been to your country, by the way. I been to Norway. I been to the whole area up there. It's really nice. Very interesting people, too. Very aloof. They're not saying, "Oh, come!" You get the message. [laughs all around] It's okay. It's okay. Tourists don't have to inundate your country. It did breed Kirsten Flagstad. Remember her?
SHANTI

What a voice!

[referring to a passerby] Now, that man is wearing patchouli. That's what you smell.
| | |
| --- | --- |
| SHANTI | That is really an essence. It's a nice fragrance. [screws up her nose, sniffs deep] Patchouli. [laughs by all] |
| | |
| --- | --- |
| ND | King Herod's favorite. |
| | |
| --- | --- |
| SHANTI | Speaking of King Herod, they had an extraordinary program on channel 13 last night on the history of the pha-roahs. |
| | |
| --- | --- |
| SHANTI | [to ND] Now, you oughtta do something with that voice besides just take data. It's a good voice. You could make money on it. |
| | |
| --- | --- |
| ND | I've heard that before. |
| | |
| --- | --- |
| SHANTI | I know. I know. You can speak publicly. |
| | |
| --- | --- |
| VJ | [to ND] See? You have the megaphone. |
| | |
| --- | --- |
| VJ | Sometimes we make him talk in the megaphone. |
| | |
| --- | --- |
| SHANTI | Yeah? He must like that. . |
| | |
| --- | --- |
| BK | Yeah. [everyone laughs] |
Modified December 23, 1997