Unlimited Free Space: Comprehensive Waterfront Plan
Transcripts - People in the audience
---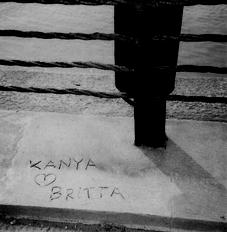 ---
Roland begins the interview.
| | |
| --- | --- |
| ND | Do you feel that there's a way to enter or leave this space? |
| | |
| --- | --- |
| ROLAND | I don't feel it, either. It just is. I'm very pleased to be alive to observe it. |
| | |
| --- | --- |
| ND | Do you feel at certain points - in spite of or because of this center, being yourself or ourselves - do you feel that there are certain places within the waterfront or city itself that you feel changes in that ambiance? Maybe you could describe the changes or a particular change. |
ROLAND

I'm a newcomer to New York. I pretty much venture down to the river everyday to have a smoke, to observe. Yesterday I came at eight thirty for the fireworks. And there was a lot of people here. And I left. I was at HMV looking for a record when the fireworks went off and I came back and they'd finished. I saw them on tv.

I find it quite difficult to be with a lot of people. The police around, etc. But if you run up the stairs - [points over the 78th Street footbridge, across the highway] there, to where the swimming pool is - there are benches there on top of the motorway - and there's no people there. There were thousands of people here. A hundred meters away, there was two or three people. And a tramp tossing himself off in his trousers. It was very peaceful. Like being at home. Really interesting.
| | |
| --- | --- |
| ND | Do you feel there's any reason for that? |
| | |
| --- | --- |
| ROLAND | You're supposed to. There's water. There's a highway. There's a pathway. You're supposed to be here. In order to get to the free space, you have to cross over the bridge. You have to take the journey. That's pretty much it. That's why it was like that there. It wasn't necessary to take that journey. You could just be here and wait for it all to happen. |
| | |
| --- | --- |
| VJ | We would like to issue one of these cards to you. We do that for people that we talk to. For two reasons. One, so that they have something from us, from this exchange. The other is that there is our phone number here - because we carry a mobile phone with us. If you would like to join us in the next few days somewhere around Manhattan or talk to us, the phone number is here. We need to take your name. |
| | |
| --- | --- |
| ROLAND | Okay. It's Roland Alexander Voliansky. You write so well! |
| | |
| --- | --- |
| ROLAND | Voliansky. Yeah. i.a.n.s.k.y. |
| | |
| --- | --- |
| VJ | And we need to take your picture. |
| | |
| --- | --- |
| ND | One thing I've noticed - and I haven't asked anyone else this before but - I'd like to get your idea on it. A lot of people have spoken about how - when they feel most expansive and when they feel most in touch with whatever their concept is of unlimited free space, it often has to do with a kind of isolation or quasi-isolation. Do you think that there's a reason for that? And if there is, do you think there is a possibility for everyone to enjoy some kind of unlimited free space at the same time? |
| | |
| --- | --- |
| ROLAND | The interesting thing about your question is that humans, animals and all biological elements of life are known as - what's the word? I'll think of the word... |
| | |
| --- | --- |
| ROLAND | They're structures that have no hard edges - they're things that have no hard edges. Tens- tensa- oh, God! Uhh- we have no bolts. We may have joints. But, there's smooth, rough, gelatinous material around it. We're very soft. T- t- t- uhh- tenso-something. We're like bones in jelly. Whereas a building, a plane, a shoe or some thing has got solid bits connected to solid bits with tension. We're without that? Gel. You know. So, we're free. Totally. What was your question? |
| | |
| --- | --- |
| ROLAND | We're free and we've created this environment for us to be free in. In fact, it doesn't do that. Simply by saying "free in." Well, to be free in some thing is a non sequitor. It doesn't actually work. |
| | |
| --- | --- |
| BK | So you think that we are space, too. That we are not only in space but, that we ourselves are space. |
| | |
| --- | --- |
| ROLAND | We are the ultimate space. What we've created is only our idea of what we think is comfortable. But, what's most comfortable to us - I assume us because I'm saying it, and I consider myself part of everything - is that love is the most important thing. If we don't have it, we get very upset and it doesn't work. Depression and suicide. Lots of problems. With love, there's no jealousy, there's no anger, there's no bitterness. There's recovery. Instant recovery: "I HATE YOU, YOU PRICK!" "Okay. ha ha ha!" Stick your tongue out and we're friends again. |
| | |
| --- | --- |
| BK | So you think unlimited free space doesn't depend at all on landscape. For example, most of the people answered the question by saying, go in the desert. Or, go to the west in the United States. They have huge spaces and there you are free. But you cannot free in Manhattan, for example, because the space is so limited here. They always link free space to a huge amount of space. Many times it was a question of quantity. If I understand your arguments, you think it is not dependent on city or landscape or desert. It's a sort of thing in its own right that can happen anywhere. It can happen here on the waterfront. It can happen on a rooftop of a skyscraper, In a subway. It's just living. |
ROLAND

Sure. Sure. Millions of songs have been written about it. Whole musicals. "Hey! We can do it right here!" You know? Written about that sort of thing. This is it. We are. It's not, "Oh, look at this!"

You know what my friend's daughter said to me the other day? She said, "Do you dye your hair grey?" [everyone laughs loud]
| | |
| --- | --- |
| VJ | That's nice. I never heard that one. |
ROLAND

Unlimited free time. Yeah. I mentioned earlier, before we started this, I bumped into the dancer in the dance class and she turned around and iI only flicked her skin - I brushed her skin and she turned around and she said, "Be aware of your own space." And she was the most brilliant - she could dance! Out of the number of people in my life I've seen - on one hand - she could dance. She was like - if the moon was out - the pyramids - and she'd be Cleopatra. Whenever she moved, people in the audience were almost throwing up, because the violence of her activity was so pervasive.

Like Indian dancing. When the Indian dancer goes into a big plier and goes to the floor, he starts breathing. The audience starts screaming and yelling. It's phenomenal. No sound required.

So this is a nice segue to the end of the interview. Perfect.
| | |
| --- | --- |
| BK | Yeah. Great. Thank you very much. |
Modified May 23, 1997