Unlimited Free Space: Comprehensive Waterfront Plan
Transcripts - Negotiate!
---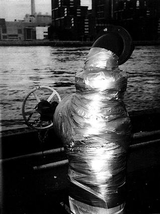 ---
After reading the manifesto and responding to a phone call, USI meets Roland, who digs the yellow suits and joins the team for a chat.
| | |
| --- | --- |
| ROLAND | ...and then I look back at them and I go, hi! |
| | |
| --- | --- |
| ND | You were off. Then you might as well be in New York. Right? |
| | |
| --- | --- |
| ROLAND | Well, no. People say hello in New York. |
| | |
| --- | --- |
| ROLAND | But an American - North American thing is a nod. In Europe, it's like, "I don't know you. Excuse me. Pardon me." In Hyde Park, there's a woman who comes everyday - I don't know how she gets there - in a wheelchair. She's got elephantitis or something in her legs. Bandages all over her feet. Like a Fellini film. She's incredible. She always gets people to help her. She'd fallen down in her chair. 'Can you help me?' 'Yeah.' But I couldn't. So, there was a guy walking buy with his wife - a woman. I said, 'Oh! Give us a hand here.' And he came by - this is on Ambassadors' Road, right beside Kensington Palace, all the best of the world's residents from Rumania to Mauritania - and he was about to come and help and his wife said, 'Harry!' [everyone laughs] Like she was a terrorist and I was an evil glut. I could understand that. |
| | |
| --- | --- |
| ROLAND | "Oh! Be careful!" It's wierd. Big changes in Europe in that area. People are really aggressive that way. |
| | |
| --- | --- |
| VJ | Scare propaganda. Successful. |
| | |
| --- | --- |
| ROLAND | Their first inclination is, "What the fuck are you looking at?" or, "I don't know you." It used to be you'd go over there to be friendly. It's a huge change now. |
| | |
| --- | --- |
| ND | Now you have to come to New York to be friendly. |
| | |
| --- | --- |
| ROLAND | It's true. Honestly. |
| | |
| --- | --- |
| ND | I have a good friend from Austria who was just here last week. She was commenting on how she went into this cafe. All these people were writing and she felt that what they were doing was very pretentious. I said, "Well, that may be the case." Then she said, "I stared at this guy. And I stared at him and I stared at him and he never said anything." I said, "That was your problem. We're in New York now." I noticed that the last time I was in Norway. People would stare at me and they would never say anything. I'm not from there, so I would wonder "What's this about?" Then I would leave and they would be staring at me all the way out. [sound of screeching tires] YEAH! |
| | |
| --- | --- |
| ROLAND | That's music! Wonderful! West Side Story. |
| | |
| --- | --- |
| ND | Yeah. East Side Story. |
| | |
| --- | --- |
| ROLAND | East Side Story! [laughter all around] |
| | |
| --- | --- |
| ND | I was like, "In New York, if you had said to the guy, 'What are you doing?' then he would respond. But if you stare at a guy in New York, he thinks you're a psycho." In Europe, you don't go up to someone and just talk to them. You stare at them. Then, if they respond, then- |
| | |
| --- | --- |
| ROLAND | It's gotta be the other person speaks first. That sort of mentality. |
| | |
| --- | --- |
| ND | The staring thing goes on and when one person decides to leave, you're supposed to jump up and say, "Oh! I noticed you." |
| | |
| --- | --- |
| ROLAND | The English have become very reserved. That reminded me - when you said "East Side Story" - of when I used to dance. A couple of years ago, the Khirov Ballet was in London. They gave an open class on Sunday at 4:30. The teacher - or one of the teachers - from the Khirov was gonna teach this class. They were gonna make lots of money. Thirty people showed up. A big loss. But, I'm in class and I haven't done ballet in a long time. I'm really struggling. It's a bit like mountain climbing. |
| | |
| --- | --- |
| ROLAND | It's a bit daunting. Either you do it all the way up to get to the top or don't even start. Smoke a joint, have a coffee and relax. I'm there and I'm in fifth position. I'm trying to go from plier to straight leg and balance and OOGGHHH!!! not fall over. And I'm like UURRHH! UURRHH! Vessels popping. And this teacher comes beside me and he goes, "UURRHH! UURRHH!" Like this, "UURRHH! UURRHH!" It was like God spoke to me. Because I had felt that all my career. It was an animal thing with my body. In terms of posture. I mean, animals don't walk around with bad necks. We're always concerned with that. And I had that feeling like, "UURRHH! Come on! Come on! More! More! You can do it!" Here he was - that teacher - vindicating my space. I was right, even though other people said "Eeewww!" At first, I went to the gym and learned how to grunt. Then I went back to ballet class and, every time I'd go "UURRHH!" people would go "Eeewww!" They looked at me like I'm like trash. It's interesting. Things that you think of now that people put down because they don't understand, you find out later - and hopefully you hold onto it - that you were right. Whatever it is that's in you, stay with it. Let it guide you. You're gonna fall but, it's always there. Somebody will come along and he'll go "Holy fuck!" Like Mickey Mantle. You hear about Mickey Mantle? |
| | |
| --- | --- |
| ROLAND | Baseball player. The great white baseball player. He died a couple years ago. Recently. Young man. His father and his grandfather had Lou Gehrig's disease, which was a congenital defect, gradual, muscle debilitator, and you die. |
| | |
| --- | --- |
| ND | [to BK & VJ] Lou gehrig was actually another baseball player. And the disease was named after him. |
| | |
| --- | --- |
| ROLAND | It's a motor-neural malfunction. I'm not a doctor. Anyways, Mickey Mantle figured, "I'm the son, I've got it!" So, he drugged and pissed and fucked and did everything. He died of cirrhosis of the liver. |
| | |
| --- | --- |
| ROLAND | On his deathbed, in his obituary - it's a classic, classic! - he said, "The doctors diagnosed me. No Lou Gehrig's disease. Had I only known, I wouldn't have drunk my life away." In fact, he didn't have the disease. He wasn't sick. He entered on this life and he killed himself. |
ROLAND

Very interesting. I guess, genetically, he stopped the disease from carrying on but - And he was on his death bed going, "Oh, fuck. If only I'da known."

[changing the subject] So, is it party now? disco?
| | |
| --- | --- |
| ND | No. Actually, we'd like to ask you some questions, because that's what we're doing. The reason that we're dressed this way is to attract people to us. |
| | |
| --- | --- |
| ROLAND | [imitates flies] zzzzzzzz... |
| | |
| --- | --- |
| ND | And that way, we can talk to them about what we're doing. But, in order to talk to them about what we're doing, we're hoping that they will talk to us about what we're doing. Maybe we can ask you some questions. Do you think that will be alright? |
| | |
| --- | --- |
| ROLAND | I wish I had another joint. Oh! Could we tape that? HALLO? Oh, it's a Sony Studio Walkman. |
| | |
| --- | --- |
| BK | Yeah. It's a great thing. Okay. |
| | |
| --- | --- |
| ROLAND | Should it be closer? That'd be better. Whatever you like. |
| | |
| --- | --- |
| VJ | Whatever you feel like. |
| | |
| --- | --- |
| ND | You should probably put it on 90. It's better. |
| | |
| --- | --- |
| VJ | If you feel like sitting. [tape machine pause] |
| | |
| --- | --- |
| ROLAND | What's the difference between an egg and masturbation? |
| | |
| --- | --- |
| ROLAND | And masturbation. |
| | |
| --- | --- |
| VJ | An egg and masturbation? |
| | |
| --- | --- |
| ROLAND | You can beat an egg. [chuckles all around] |
| | |
| --- | --- |
| ROLAND | [laughs] Okay. Questions. |
Modified May 23, 1997