i n d i v i d u a l e l e c t r i c , i . e .
a constructed situation for e~on
an exhibition of electronic art made in Norway
---
t h e T V d i e d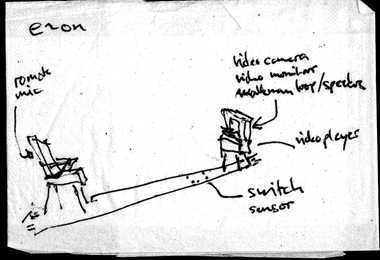 6cyberconf -the 6th International Conference on Cyberspace
Kunstnernes Hus, Oslo, Norway, 1997
I N T R O
A farmer lived in the shadow of a mountain in Trøndelag. The farmer's old man was sitting in a rocking chair by the window. The old man died and the farmer's son took over the farm, the farmer moved into "Kårstua", where he sat in his favorite red chair, which was embellished with swirling geometric patterns. There he watched the TV set on its imitation teak and particle board table. His son married a woman, who bore him two daughters. The farmer died and his son's daughter had a child of her own. She and her man moved into Kårstua, but the old chair and furnishings of her grandfather were out of date. These objects were placed in the barn when she took over the small house. On May 17. individual electric found these articles ripped from the fabric of everyday Norsk life, and for e~on, we revive these items to celebrate the planned obsolescence of the "supermen [who] walked in file, guardians of a loveless isle." (Bowie, The Supermen)
See Who See Me? Sit down and see the mean streets gone mundane, lean forward and turn on yourself. In the farmer's favorite chair, the visitor looks at his TV and through the imploded monitor sees another. A recycled loop of surveillance footage promises a bit of vicarious voyeurism. But it's tough to see the details. Lean forward, get up, step forward onto a switch under the plastic rug. A new real-time image replaces the playback image: an image of the viewer looking for an image.
T h e T V D i e d wraps the intestines of technology around itself, it leaves the dwarfish memory-smiths to contemplate the plastic priapus in absentia, it spells out everything that objects and their ornamentation are guilty of perpetrating. (See Adolph Loos, Ornament As Crime or Walter Benjamin, One-Way Street) An imploded TV in an outmoded living room manages to survive long enough to show us what we're looking for. The electricity of our everyday search.
Once again, individual electric can only ask what it is we're looking at, who we keep on looking out for. Is all of this technology, this artful language, any more than another night of national noticias? Is there a time when I can stop "Sittin' in my kitchen wishin' I was livin' like a hit man..." (Beck, Two Turntables and A Microphone)
individual electric is developing a work in stages exploring contemporary audio and video surveillance.
O B S u r v e i l l a n c e B o x v .4 : T h e T V D i e d is our fourth O B S u r v e i l l a n c e B o x (incorporating videorecordings from O B S u r v e i l l a n c e B o x v . 1 and new audio and object elements).
individual electric is entering the fifth year of experimental interactivities drawn from their backgrounds in architectural and linguistic studies. Using found objects, video, sound, computers, film, light, people, rooms, streets and other gifts, we, like Beethoven and Tesla, are electrical by nature.

11:12:98