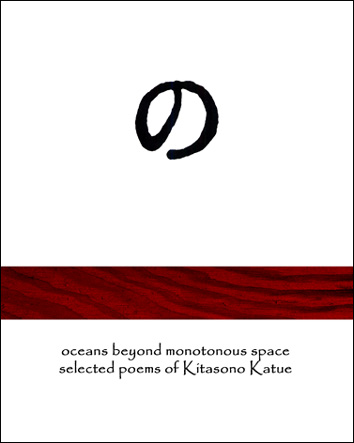 Excerpts from and extensions of
OCEANS BEYOND MONOTONOUS SPACE:
SELECTED POEMS OF KITASONO KATUE
Translated by John Solt
Edited by Karl Young and John Solt
Introduction by Karl Young
---
from the book
---
Introduction
by Karl Young

Selections from
WHITE ALBUM (Shiro no arubamu), 1929

Selections from
BLACK FIRE (Kuroi hi), 1951

Selections of
Plastic Poems: begun 1966
---
from the Book and Beyond
---
Kitasono Katue and the Colors of the World's Words
Five primary poems, with translations into multiple languages.
---
First Responses
Early reviews and comments by Aysegül Tözeren, Anny Ballardini, Susan Smith Nash, Carlos M. Luis, and Dan Waber. At Big Bridge magazine

Another early response —
by Richard Kostelanetz in American Book Review.
---
How To Order
---
Go to Glimpses of Avant Garde Japan

Go to Light and Dust Anthology of Poetry