Visual Poems
by Mária Hegedús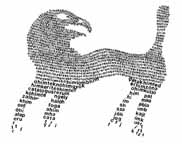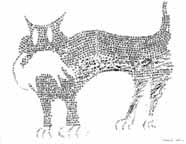 ---
A sequence of 6 poems from
"Õsszeszõtt mezõk" (Fields Interwoven)
---
Mária Hegedús was born in Hajdúdoborg in 1951. She graduated from Eötvös Lorand University, with majors in Hungarian Language and Literature, Adult Education, and Library Science. She works as a teacher and librarian.

She has composed visual poetry since 1985, first publishing her work in "Magyar Müheley" (Hungarian Workshop). It is with the milieu centered on this magazine that she finds herself most at home and most encouraged to pursue her art. Since 1985 her work has appeared in avant garde publications such as "Medium Art", "Négyzet" (Quadrate), and "Páratlan" (Odd). She takes active part in group shows, artists' meetings, and performance events in Hungary and abroad, most otably in Lyon, Leuven, and Hadelsdorf. Her "Õsszeszõtt mezõk" (Fields Interwoven) was published by Magyar Müheley Kiadó in 2000, and we have added exerpts from this book to this site. This seems a partiularly important work, with its unification of letters with natural objects ranging from grains to stones, and marks a further advance in her exploration of a complex metaphoric language, incorporating found an organic forms.

She edited two collections of visual poetry, I Was a Guest in my Father's Garden, 1986, and Carneval, 1992. These works were produced by screen color process. Magyar Müheley published a book of her visual poetry, My Carneval, in 1996.In 1978 she won an Eötvös József Fellowship. An exhibition of 10 years of her work was mounted in Kazincbarcika in 1995 and in Miskolc in 1996.

"Demand of constant experimentation in pictures of Mária Hegedús marks such new directions in visual poetry that makes her one of the exceptional people of experimentalism. The individually harmonized composition of visual effects toposyntactical structures, shape metaphores ironical arrangement and other spoken language modifying structures in her compositions are such creators order of conveyance which insinuates vision of novel grammar of a transcendental word of thought."
---
Return to Hungarian Visual Poets' Main Page

Return to Light and Dust | Return to Kaldron

This is a cooperative presentation by
Kaldron On-Line and
Light and Dust Mobile Anthology of poetry