Visual Poems
by Gabor Toth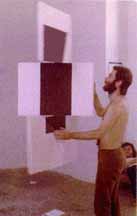 Click for enlargement.
---
Gabor Toth was born in 1950 in Budapest. He describes his fields of activity as:

visual-, phonical-, zen-poetry, experimental-art, actions, performances, free-improvisation nois-music, mail-art, art-objects.

He founded the EXPERIMENTAL ART PUBLISHER press and the "Hungarian marginal-art" magazine, LAZA LAPOK/LOOSE PAGES/, and the free-improvisation nois-music group TALES Co.

His books and Chapbooks include: First Dimensional Album, 1972, Information - Contra Information, 1973, Visual Topology I, II, III, 1974-1975, Wrecks, 1975, Self-Adhesive Ideas, 1983, I Am Still A Long Way Off, 1986, Last Voice, 1988, Tales e.t.c., 1996, Voice of Silence, and numerous colaborations, including several with Szombathy Bálint.

His complete vita includes dozens of films, audio tapes, performances, 12 one-man shows and inclusion in more than 120 group exhibitions.
---
Return to Hungarian Visual Poets' Main Page

Return to Light and Dust | Return to Kaldron

This is a cooperative presentation by
Kaldron On-Line and
Light and Dust Mobile Anthology of poetry