Joffe Urnes:
Vibeke Jensen: "Closed Circuit"
Trondheim Art Museum


The marriage of project and
room is in this case a happy
one. We enter something long,
narrow and dark that seems to
permeate the entire Western
World: surveillance...
Closed Circuit infuses me
with a notion of total vision,
diversion and impertinence.
This is an expression equivalent
to our time.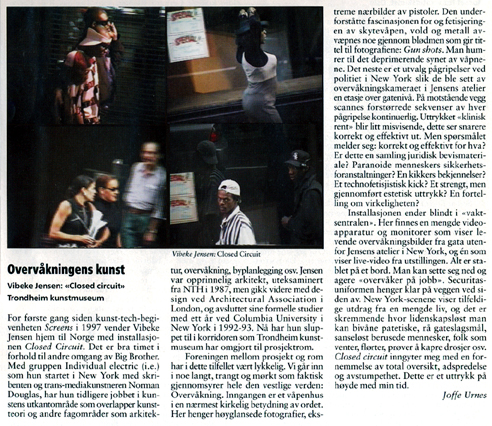 : back to TOP
Morgenbladet Mar. 8 -14 2002; editorial by Truls Lie
Truls Lie:
Desire for surveillance


In New York lives the Norwegian artist Vibeke Jensen, who currently shows her installation Closed Circuit in Trondheim Kunstmuseum. Her videos criticize the surveillance and control the city's marginal people are exposed to. A panoptic society that creates a constant discomfort among us, as we never know where and when we are surveyed - eavesdropped, videotaped on the street, in the bank or observed from satellites. With her secluded camera, Jensen has filmed street arrests, pimps, prostitutes, fights, the mentally ill and beggers. In Trondheim you will be video taped in her Control Room, where you become mixed in with oddities from New York. You become aware of the omnipresent surveillance. Professional conspirators who spy on each other without knowing why. But who is observing whom, and seemingly on whose behalf?
Adresseavisen Feb. 8 2002; review by Per Christiansen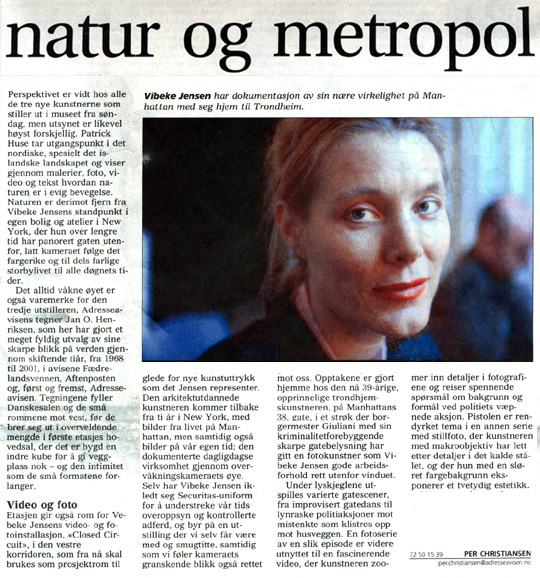 : back to TOP
ARTbyJENSEN 2004