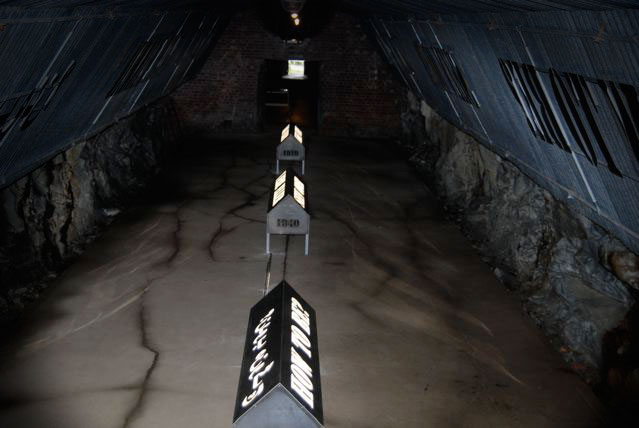 BIG_QUESTION, installation, Hegra Fortress, Norway 2010 Photo: Kalle Eriksson
Hegra Fortress is a mountain fortress in the county of Nord-Trøndelag, Norway, 15 min. from the Trondheim Airport.
It was built in the years 1907-10 as a defense against the perceived threat of Swedish invasion. On April 15 1940,
local soldiers gathered in the fort and fought the German invasion until they had to surrender 3 weeks later. Hegra
Fortress is today used as a museum with exhibitions detailing the fort's history with an emphasis on the 1940 siege.
2010 marks the 100 year anniversary since Hegra Fortress was built, and the National
Fortification Heritage organized a competition for a site specific artwork that reflects the
fortress' history and significance. Vibeke Jensen's winning entry BIG QUESTION_BIG
PICTURE will be in the subterranean tunnels for 3 years from August 29.