[[ Electronic-Protest In Support of the Indigenous Bill of Right's In Mexico by EDT]]
[[On October 12th From 9am to Oct.14th 12 pm EST ]]
[[And Against the Mexican Sumpreme Court Decision on Dia de la Raza]]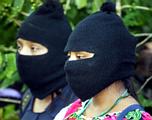 DOWNLOAD
Traditional Virtual Sit-In Tool. NOW
BAJE la herramienta para la manifestación virtual AHORA.

Once you have DOWNLOADED the

.zip file. (PC)
Una vez que haya BAJADO el documento .zip (PC)

OR

.sit (Mac)
O el documento .sit (Mac)
Unzip.
Open Folder "HIJAS.".
ABRE la carpeta "HIJAS"

Click "START.HTML" and START THE ACTION!!
Apoye "START.HTML" y ¡EMPIEZE LA ACCION!

Remember that you have to be ON-LINE!!
¡Recuerdese que tiene que estar EN LINEA!

<<<<<<<<<>>>>>>>>>

FOR THOSE WHO DON"T WANT

TO DOWNLOAD THE .zip or .sit FILEs.

(YOU SHOULD! IT WORKS MUCH BETTER THAT WAY!)
CLICK HERE TO JOIN THE ACTION!!
<<<>>>
PARA LOS QUE NO QUIEREN BAJAR EL DOCUMENTO .ZIP O EL .SIT
(ES MEJOR ASI)
PUEDEN APOYAR AQUI PARA UNIRSE A LA
ACCION.