L I T T L E   I T A L Y  
N E I G H B O R S   A S S O C I A T I O N   ( L I N A )
t h e   b o w e r y
---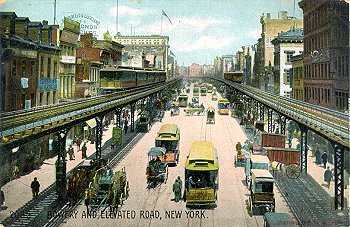 the bowery, the bowery!
they say such things and they do such things.
on the bowery, the bowery!
i'll never go there anymore!

This 1910 postcard shows the Bowery long past its heyday, but well before its present incarnation as a market for restaurant supplies and lighting fixtures. Nearly all of these buildings remain; the elevated railway tracks were torn down in the 1950s.
Low Life, Luc Sante's social history of down-and-out New York, chronicles the Bowery's long and glorious decline. Describing the street as "the proverbial den of all vices . . . the capital of dissipation . . . the main street of the lower classes . . . the forum of the slums . . . the last stop on the way down," he notes that, among the Bowery's distinctions, it is the city's only major throughfare never to have harbored a church.
Two buildings that figured prominently in Bowery history -- remnants of its nineteenth century glory days -- are now under threat from the wrecker's ball. A group of artists who live and work in the buildings have mounted an effort to save them. You can find out how to support this effort at 295 Bowery.
The Bowery can be further explored at sites focusing on tattoos, flophouses, homelessness, and, most recently, "Bowery nostalgia." Berenice Abbot's depression-era photos of 103 Bowery and 264 Bowery offer a glimpse of the area's ragged but persistent entrepreneurialism.
The Bowery borders Little Italy to the east, running a mile from Chatham Square to Cooper Square.