FRANÇOIS POYET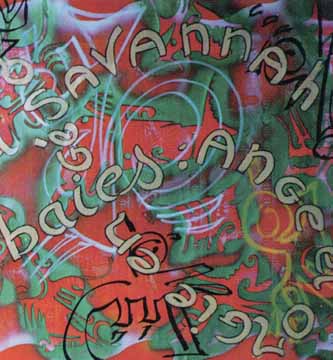 Savannah Bay, 1999 (detail)
Mixed media, 200 x 120 cm.
FRANÇOIS POYET

Born in 1948 in Courbevoie, France. Poyet has participated in Lettriste shows since 1966, and has over 400 exhibitions to his credit. He displays a far-ranging creative imagination and sense of humor. Poyet's work is in the form of paintings, sculptures, film, word games, and events, all inspired by Isou's ideas .

Some of Poyet's titles suggest the style and character of his work: "Sculpture without gravity," "Signs to cut out and fold," "Hamburger Slides," "Palimpsestuous Practice," "Chicken stuffed with signs," and a "Book Cake" for Isou's birthday.

Poyet's movie, "Film sans histoire," (1970) is an excellent example of "chiseling" cinema, using destructive scratchings on the film surface and other techniques to reduce film to its elements, and "discrepancy" style, where the sound track is unrelated to the visual images.
Return to Letters to Lettrism Catalogue.
Return to Lettrist Home Page
Return to Light and Dust | Return to Kaldron

This is a cooperative presentation of
Kaldron On-Line
and Light and Dust Mobile Anthology of Poetry