d.a.levy home page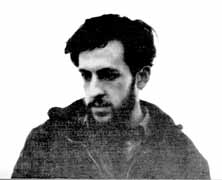 curated by Ingrid Swanberg, Karl Young,
and Karl Kempton
---
After becoming familiar with the work of d.a.levy, you'll probably realize that just about anything you can say about him will immediately call up its oposite, leading to mazes of seeming contradictions. For many people, particularly those who didn't know him or who read him superficially, he appears as an outlaw wild-man, hurling imprecations at the universe, and getting himself martyred in the process. Despite the element of truth in this, he was also deeply committed to a community of friends, and the author of some of the most beatific spiritual poetry of the time. You could see him as a warrior against repression and conformity, but perhaps other roles can strike deeper chords: his curses find parallels in the Book of Job, as his lyrics reprise The Psalms and The Song of Solomon, and his Jeremiads recall the prophet from whom the term derives. You could see him as a quietist scribe, patiently producing a Tantric Bible. You could also see him as a man who urgently needed to read his poetry to an attentive and engaged audience - in addition to such venues as coffee houses, he read to passers-by on the street, whether they wanted to listen or not. You could see him as a parapatetic monk, grimly following a weird and inescapable Dharma, and you could see him as a wise-ass looking for trouble. He could make grandiose claims, and at the same time claim that neither he nor anyone else had anything to say worth hearing. You could see him as a nihilist, seeking oblivion, or a mystic seeking a void which produces endless miracles, which in turn fit quite plainly into the flow of daily life. You could see him as a classic Beat, seeking adventure; brooding, phreaking, musing on boredom, cracking raunchy jokes, content when he had sufficient grass and sex. He found revelations in the larger-than-life social and political movements of the 1960s and in scraps of old newspapers, cheap cartoons, and the echoes of canonized poets and traditions. He could also see revelations as nothing more than cons. He listened carefully to the voices of the street; he also received messages through telepathy, from the spirit world, and through forms of altered consciousness. You could see him as a light philosopher, related to those of the Middle East and Medieval Europe, but one who extended dualism into hyperspace. He was the Patron Saint and Martyr of the American alternative press movement, and like all real saints, was not recognized as such, even by the many people who followed in his footprints. There are a lot of ways you could see him as a poet. But if you see him solely as any one of these, you haven't seen him at all. We feel that our job at this site is to give you as much access to the work as possible, in all its diversity, so that you can see past the stereotypes that obscured his work during the last year and a half of his life and those that have grown since his death.

Formally, you could see levy as a book artist - a poet who worked primarily with books in mind, which he usually produced himself. As a low-tech book worker, he remains unsurpassed in the second half of the 20th century. You could as easily see him as a lyricist, whose vocal intensity exfoliated into visual manifestations. Aside from the wonderful and exciting visual and aural dimensions of his poetry, this creates problems in presentation on the web and in print. Works such as The Tibetan Stroboscope can only be seen as visual poetry. With other works, this becomes less certain: levy worked deliberately with inexpensive and "liberated" papers, often exploring the aesthetic of rough mimeo and crude letterpress production, and this can be seen as inherent to the work. This makes our division somewhat arbitrary. But it's also both practical and provisional. In some of the "lexical" work, the lyric seems to take precedence over any visual concerns, and these seem appropriate to presentation in plain html format. As we go along, we may present some of these works in both html and graphics forms.

As much as levy has been disgracefully ignored since his death, he has had his torch-bearers. Ingrid Swanberg has been one of the most important of them, producing the only easily available print edition of his work in over a decade. In doing so, she carefully and deliberately worked with a book design best suited to library and popular sales to keep key works in circulation, although this has drawn criticism from some purists. It seems unlikely that some Micenas will come forward with the funds for a state of the art Swiss or French collotype edition that only collectors could afford. Outside that range of facsimile, Swanberg's edition remains a model in its own genre. You can order her edition through Ghost Pony Press: you'll find a link to the press at the bottom of this page.

Although this project has been in the works for two years and some of the poetry has been at this site for that long, this page went on-line, with total irony intended, on July 4, 1998, in anticipation of an independence day that would include people like d.a.levy.
- Karl Young
---
VISUAL POETRY AND BOOK ART
Miniatures
Paintings
(Previously unpublished)
posters advertising nothing
(Previously unpublished)
from The Buddhist 3rd Class Junkmail Oracle
Comments on the Acid Landscape
---
LEXICAL POEMS
Short Poems:

the bells of the Cherokee ponies

sitting on a bench near TSQuare

Longer Workings:

Selections from North American Book of the Dead

Cleveland: The Rectal Eye Visions
---
Essays and Commentary
by Gary Snyder, Karl Young, Ingrid Swanberg,
Alan Horvath, and D. r. Wagner
---
20008 d.a.levy satellite
Spokes in the Wheel of d.a.levy Karma
Commentary begun in considerations of two major levy publications in 2007: reprints of UNKANHAVYRFUCKINCITI BAK and Kirpan Press's (Spontaneous) Random Sightings and Under Dog Press's d.a.levy and the mimeograph revolution. Essays and appreciations, the best collection of them assembled to date, go considerably beyond these three books. Contributions by Ingrid Swanberg, T.L. Kryss, Karl Young, Joel Lipman, Dan Waber, Joshua Gage, jon beacham, Geoffrey Cook, Richard Krech, John Oliver Simon, and Charles Potts. Produced in collaboration with Big Bridge magazine.
---
Poems For,To, and After
by t.l.kryss, Grace Butcher, bill bissett, will inman, D.R. Wagner,
rjs, Douglas Blazek, Kent Taylor, Ingrid Swanberg, Karl Young,
Russell Salamon, Johnathan Moore, and Luther Jett
---
d.a.levy bibliography
Compiled by Kent Taylor and Alan Horvath
Although the compilers tend to be modest, this bibliography
borders on the miraculous, given the dificulties presented by
a poet/publisher whose life was short and much of whose
publications were ephemeral. An aid in locating work written
and or published by levy, this bibliography should give
readers a sense of the range of levy's work and interestes.
The bibliography remains an ongoing and probably incompletable
effort.
---
Ghost Pony Press
Source for available work by d.a.levy in print form
---
Return to Light and Dust Poets. | Return to Kaldron On-Line
This is a cooperative presentation of
Ghost Pony, Kaldron On-Line, and
Light and Dust Anthology of Poetry.