A HOMEPAGE AWAY FROM HOME FOR

bpNichol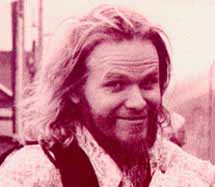 Curated by Karl Young
---
During his lifetime, bpNichol published his work through multiple publishers, even though he could have stuck with one or two. His reasons for this included his belief in decentralization and his camaraderie. Part of that camaraderie continues in works bp did as collaborations with other people, and I've continued one line of multiple participation through TTA 29. Given his trust in decentralization, it seems appropriate that bp's work should appear from a number of different sites on the web. I've titled this site as I have to avoid any implications of centrality or primacy. When this site went on-line, this was pretty much everything there was on the web, and continued so for several years. Now Coach House Press has a bpNichol site, and it's a great relief to me to see the press that was so important to him hosting it, and doing so from Canada. There's a link to the Coach House site at the bottom of this page.

During his life, I had the good fortune to publish more of Barrie's work than anyone outside of Canada, and this project seems like a good way to say thanks and to celebrate his spirit. If you're unfamiliar with his work, this is a good place to start checking it out. If you're an aficionado, this site includes a couple works you should appreciate.

Speaking of thanks, I'd like to thank Eleanor Nichol for her generosity and good will. Given Barrie's faith in the future, I'd like to dedicate this site to Ellie and to their daughter, Sarrah.

---
Basic Work
- from Translating Translating Apollinaire
- from Sharp Facts Variations on TTA 26 *
- from Art Facts; a book of contexts *
---
Collaborations and Continuations

- Selections from The Prose TattooSelected Scores of The Four Horsemen Performance Group
Scores for performance pieces from the group of which Nichol was part. Some are presented simply as examples of scoring techniques. Some make visual poems in their own right.

7 by bpNichol: from Konfessions of an Elizabethan Fan Dancer by Dan Waber

Two versions of a new working of bpNichol's TTA29
by Dan Waber and Jason Pimble

- TTA 29 Continued bpNichol's Translating Translating Apollinaire 29, a participatory section, with contributions by Hart Broudy, John Fowler, David Cole, Christy Sheffield Sanford, Lois Ward, Susan Smith Nash, Michael Basinski, Bob Grumman, State of Being, Harry Polkinhorn, Karl Kempton - and more to come.

---
Commentery
Paul Dutton
- bpNichol and the Past-Present of a Future Music
- bpNichol, Drawing the line The visual Poetry of bpNichol
- Getting It Right and Getting It wrong with bpNichol

Dan Waber
- 11 of the (Many) Things I've Learned From the Work of bpNichol

Karl Young
- The Visual Poetry of bpNichol; a Brief Sketch. Overview, with copious examples.

---
Return to Light and Dust Poets | Return to Kaldron On-Line

bpNichol pages at Coach House Press

Light and Dust Anthology of Poetry