Shozo Shimamoto and 1,000 Women in Ink
by J. Lehmus
Shozo visits Helsinki
This performance at Jangva gallery (12 July 1996) was a part of Prof. Shimamoto's project "NYOTAKU: Shozo Shimamoto and One Thousand Beautiful Women", which was started in 1995 in Japan.
I quote from the artist's statement:
"Through the Networking Art that Shozo Shimamoto promotes and a collaborative form of art called 'NYOTAKU', women undress and apply ink to their bodies. They then affix Japanese paper to their bodies and the subtle nuances of their form are impressed onto the paper to such great detail as to make you think that their 'fragrance' is also conveyed in this work of art."
In his introductory speech, Shozo referred to the classic works that Yves Klein made in early 60's (the Anthropométries paintings), but pointed out that his current project is essentially a networking piece, and is further enhanced by the allusion to kyotaku, the traditional Japanese method of making ink prints from fish.
Shozo's two assistants had laid out and arranged the print-making equipment that Shozo would need in his working. Mr. Takalo-Eskola, Shozo's host in Finland, now led in the two naked women who served as Shozo's models in the performance.
The women stood in fixed postures as Shozo calmly painted their skin with Japanese ink. Takalo-Eskola, who had earlier introduced Prof. Shimamoto and his ideas to the audience, helped moving the women, who were instructed to stay passive, onto large sheets of handmade rice paper that Shozo was using to make the prints.
It all resembled very much a ritual, the female bodies began to look like burnt corpses, black statues, or ghosts, as Shozo silently covered their skin with glittering ink. The spell was broken when the bodies were brought into contact with, and forcibly pressed against, the paper -- one could see smiles in the audience. The performance was thus a grotesque combination of dreamy and rough elements, resembling an absurd, repetitive practice of a dreamlike first-aid procedure.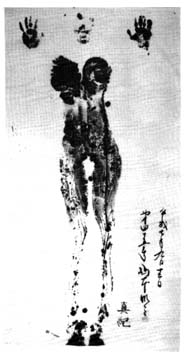 After the realization of a dozen or so prints, in the method described above, the performance was over. Shozo politely thanked his models and the audience.
As the audience was quietly retiring, I decided to send out my "manual communications" with these Japanese networkers. Mayumi Handa, one of Shozo's assistants, painted my hands with some of the surplus ink and I made a few prints, both on the rice paper and on some A4 copy paper sheets that I happened to be carrying in my coat pocket. It was very satisfying to see the images of my hands getting duly packed away by the assistants, and placed inside a tube container with the images of female bodies. I just ached to put my hands between those fair sheets.
Later, Prof. Shimamoto photographed his models as they were engaged in washing the ink off their bodies in the back room. He explained that he admired the greenish hue of the dissolving ink. Shozo was sure to mention that the ink he used was of the dark blue variety, not the black one. "The blue one makes better prints," he said.
Shozo Shimamoto links
---
GLOSSOLALIA 7: Copyright &copy 1996 J. Lehmus. All individual works Copyright &copy 1996 by their respective authors. All further rights to works belong to the authors and revert to the authors on publication.
Images from AU's newsletter, ART UNIDENTIFIED (issue 138).