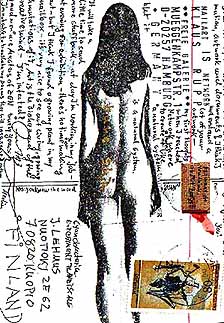 "bare skin"
Postcard by Klaus Rupp
Photocopy, felt pen, gold tint, watercolour, self-adhesive fabric and postage stamp on archive card. Hamburg 1993.
"Dear friend, thanks a lot for all the information, artwork and documents! I think I understand a lot of your artwork -- my first thoughts when I reached [the] Network were to create a project like a natural system; but it is a natural system. ... It's very nice to see art living, growing & mutations of it. Art is the Biohazard of the creative mind - I'm infected! ~ Merlin. 7/93"
GLOSSOLALIA 4: Copyright &copy 1996 J. Lehmus. All individual works Copyright &copy 1996 by their respective authors. All further rights to works belong to the authors and revert to the authors on publication.