L I T T L E   I T A L Y
N E I G H B O R S   A S S O C I A T I O N   ( L I N A )
4 4   p r i n c e c o n s t r u c t i o n h e a r i n g
---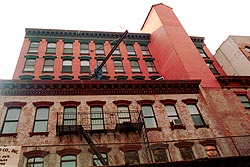 Hearing of the Board of Standards & Appeals
Tuesday, October 12th, at 2 pm
40 Rector Street, 6th Floor Hearing Room (near Rector Street stop on 7th Ave. subway line)
The construction at 44 Prince Street will be ruled on at the Board of Standards & Appeals at this hearing. The Board will take the negative impact on the community into account in its ruling!! At several Town Hall and LINA meetings people complained about the manner of work and the construction itself which was done at this building.
The 44 Prince St. owners are applying for a variance to approve the work they already did. It is common for owners to do construction & apply for the variance after, hoping that it is less likely they will have to remove it.
The Community Board 2 & Kathryn Freed oppose the variance because the work appears to be dangerous. It is inadvisable to add the weight of extra floors and an elevator shaft to this type of building. The newly constructed floors have blocked the windows of classrooms at St. Patrick's School, and let's face it, the building looks bizarre and ugly.
LINA will try to send a representative with a letter of opposition. If you can go or if you can go & read our letter, please contact Suzanne Williamson via e-mail. Thank you.