L I T T L E   I T A L Y
N E I G H B O R S   A S S O C I A T I O N   ( L I N A )
c h i n a t o w n
---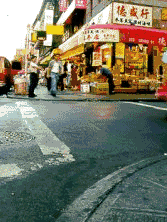 It's an old story to the police. Visitors are more or less of a nuisance in Chinatown and a good many times they're disappointed. For they've built up such fantastic ideas of what goes on down there that if they don't see a few Chinamen disappearing down traps in the pavement pursued by somebody with a hatchet or a long carved knife, they haven't had any fun.
Policeman Cornelius Willemse, A Cop Remembers, 1933.
Myths, fallacies and misconceptions about Chinatown have thrived ever since the 1870s, when the city's Chinese enclave was first established. Books such as New York's Chinatown, published in 1898, and numerous films, attest to the fascination that the area has long exercised on outsiders.
One of New York's busiest and most densely populated districts, Chinatown is packed with restaurants, tea houses, vegetable, fruit and fish stands, jewelry stores, gift shops, launderies, and stores selling traditional herbal remedies. Its narrow streets are lined with mixed-use tenements: shops at ground level, four or five floors of residents above.
Over the years, Chinatown's size and composition have altered greatly. In 1965, the year that federal immigration laws were revised to abolish discriminatory racial quotas, Chinatown was a seven-block area around lower Mott Street inhabited by a Chinese population of about 20,000. With the continuing influx of Chinese immigrants since 1965, Chinatown's traditional boundaries expanded significantly to the north and east. The Encylopedia of New York City, published in 1995, described Chinatown as a thirty-five block area running from Kenmare Street south to East and Worth streets, near City Hall, and from Broadway west to Allen Street.
Consisting largely of Cantonese-speakers, but with a rapidly increasing minority of residents from Mandarin- and Fukien-speaking provinces, New York's Chinatown is now the most populous Chinese community in the western hemisphere. Vietnamese, Malaysian and Thai immigrants have also begun to settle in the area, contributing to its diversity.
Other views of the area: a history in photos (and in words), assorted Chinatown info, bewailing the last of the Chinatown movie palaces, admiring tai chi and jade figurines, playing tic tac toe with a chicken, studying gangs, a glimpse of a Chinese school on Mott Street in 1879, and more photos.