L I T T L E   I T A L Y
N E I G H B O R S   A S S O C I A T I O N   ( L I N A )
t h e   b o w e r y  (cont'd)
---
In 1878, an elevated railroad was built on the Bowery. So as not to cover the horse-car lines then taking up the street, the tracks were erected on each side, overhanging the sidewalks. As this 1903 photo evidences (this one too), the tracks were within a few feet of the street's buildings, bringing the steam locomotives that pulled the early El trains roaring by the windows of residents inside.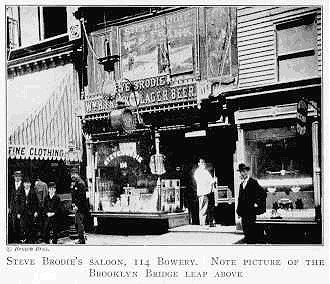 But it was the deep shadow cast by the El, the subject of this 1936 photo, that most affected the Bowery's reputation. Hidden by the darkness, prostitutes, criminals and assorted conmen plied their trades. The Bowery's decline began in the 1880s but accelerated with the turn of the century. One by one the theaters closed, replaced by cheap boardinghouses, missions, and brothels. From a place of low-budget entertainment, the street became, for several decades, the epitome of vice, depravity, and degradation.
The Bowery's notoriety made it an inviting subject for representation and caricature. Theodore Dreiser closed his tragedy Sister Carrie, set in the 1890s, with the suicide of one of the main characters in a Bowery flophouse. William S. Burroughs, the writer and long-time Bowery resident, alluded to the area in a story that complained of bums waiting to "waylay one in the Bowery." The street also served as an evocative setting for several movies, from The Street of Forgotten Men to Bowery at Midnight.





I struck a place that they called a dive. I was lucky to get out alive.
When the policeman heard my woes, saw my black eyes and my battered nose,
"You've been held up," said the copper fly. "No, sir, but I've been knocked down," said I.
Then he laughed, but I couldn't see why. I'll never go there any more.
The Bowery, the Bowery . . .