ISIDORE ISOU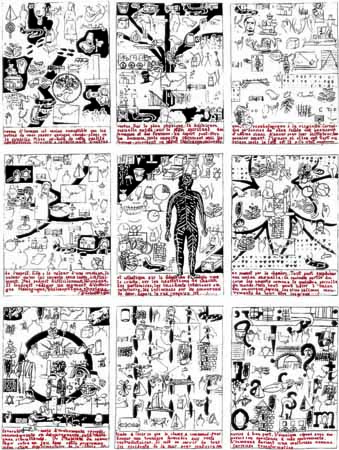 Initiation to Voluptuousness , 1989
Silkscreen on Cloth 236 x 216 cm.
Born in Romania in 1925. Isou came to Paris in 1942, and initiated the Lettriste movement in 1945. He has published numerous books, including the 1950 Journaux des Dieux (Journals of the Gods), which renews the art of the novel and narration, using overlaid texts in drawings, braille, and musical notation.

His Esthétique du Cinéma (1952) lays the groundwork for his experimental films, of which the most notorious was the "Treatise of Drool and Eternity," shown at the 1951 Cannes film festival.

Isou began working with his concept of Meca-esthetics in the 1960's proposing art works in all possible media. He continues to write theoretical works, including the recent concept of Excoördism, which coordinates extensions of the infinitely large and the infinitely small. He strives for the continual renewal of the avant-garde.
Return to Letters to Lettrism Catalogue.
Go to Isidore Isou home page
Go to Lettrist Home Page
Go to Light and Dust | Go to Kaldron

This is a cooperative presentation of
Kaldron On-Line
and Light and Dust Mobile Anthology of Poetry