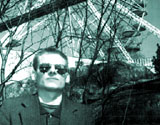 J. Lehmus
Helsinki, 1970



Resumé
Experimental poet and artist.

Work appeared in various international visual poetry projects and publications; UNI/vers(;), Score, Generator, Spinne, Teraz Mowie, Piedra Lunar, Transmog, Brain Cell, and others.

Editor and compiler of Brio Cell, portfolio project of visual poetry and copy art. Ten issues of Brio Cell have been produced to date, each in an edition of 20 copies, with contributions from dozens of poets and artists worldwide: Serge Segay, Fernando Aguiar, J&uumlrgen O. Olbrich, Heta Norros, Dick Higgins et al.

Editor of Glossolalia, an electronic journal for experimental arts.

"Founder" of Cyanobacteria International [Communication Irrationalism] whose initiative concept was proposed to the Eternal Network first in 1992 as an anti-organization of communication artists.

Curator of Gallery 0.96 m2, a mail art space in Helsinki City.
Contact
Postal address:
Stenbocksv. 24, 02860 Esbo, Finland

Telephone:
358 0 863 85 85

E-mail:
jlehmus@cute.fi

Personal homepage:
http://www.geocities.com/paris/1583
---
jlehmus@cute.fi 20 September 1996

Photograph by Jaana Kamari