Carl J. Young's Parents

---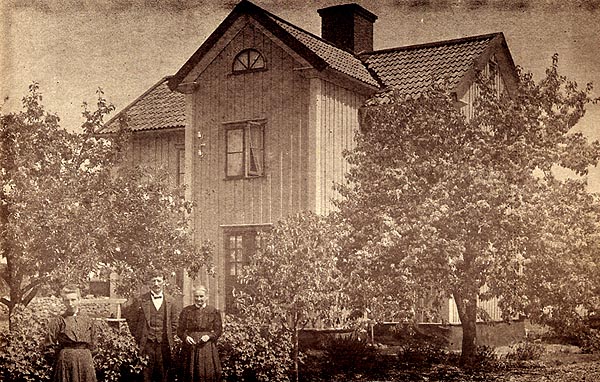 Carl's mother, Anna Lyljadahl, was born in this house in Vastervik, Sweden, on February 6, 1889. She had many stories of folklore and customs to pass on to her descendants. Perhaps most important were the stories of the Tompta Gubbas, household spirits who lived in the attic and looked over the family, and Ole Johannson, a whimsical philosopher who rode a unicycle. Although her childhood seems generally happy, her mother died when Anna was a child, and her father when she was 14 years old. At the time of her father's death, her stepmother advised her that her prospects were bleak in her home town. At the age of 14, with nothing but the dress on her back and a small ruck sack, she took passage, alone, in steerage on a steamer to America. She was working on a sampler which read "Herren Förser" ("The Lord Will Provide") when she left. This is apparently the only thing she brought with her which still survives.

She found employment in New York City as a domestic servant. At a social gathering at the Swedish Baptist church she attended, she met her future husband, Axel Young. Axel had changed his name from Johaanson to Young on coming to America in a spirit of optimism about starting a new life in a young country. He was a skilled machinist and electrician, and would have been able to do well enough in Sweden, but he was an idealist and thought he could find something better on the other side of the ocean.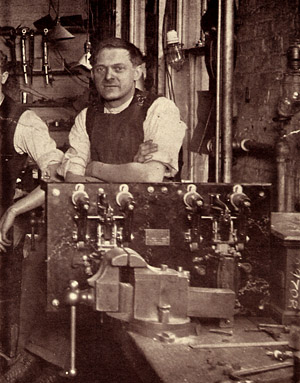 Axel working as a machinist, Circa 1910.
---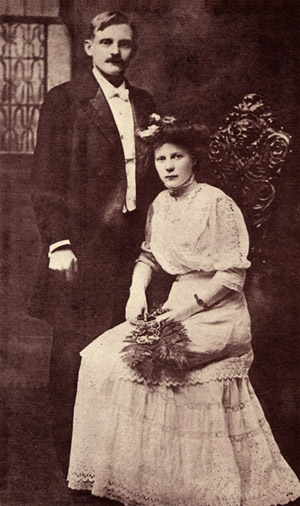 Anna and Axel were married in 1910. Although we can't be certain, it seems likely that this was their wedding photo.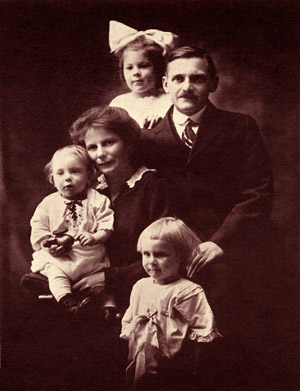 Anna and Axel moved to West Allis after their wedding. The family moved to Kenosha when Carl was two, so this picture, probably taken in 1916, shows the family in West Allis. Their eldest child, Hildur, appears at the top of the photo. Moving clockwise, we see Axel, Ann, Carl, and Anna.
---
Anna kept her family together as long as she could. One of her methods of doing so was by making arrangements for elaborate Christmas celebrations in one place, even when her children were scattered as far apart as Montreal, New York, Detroit, and Kenosha. Her Swedish customs aided this effort considerably.

Christmas, 1953
Top row, left to right: Jeff, Harold, Ed, Elizabeth, Arthur, Edwin, Carl, Wally;Second row: Marge, Hildur, Anna, Karl, Bernice, Ann; Bottom row: Kris, Margaret, Jim, Kathy.



---
Anna spent the last 12 years of her life in a nursing home. Carl and Bernice tried to visit her daily. Karl, Jr., who had moved to Milwaukee, religiously visited her every weekend except when he was traveling or working out of state. In 1973, he produced a Christmas book for her, giving the edition to her in November so that she could send copies instead of Christmas cards. The photos on this page come from the book. Karl produced other such books, both as gifts and as commercial jobs in succeeding years. We mention it here because it seems a custom which other families might adopt. Carl did not want such a book, but this site suggests one without going against his wishes. Many seniors have life stories they'd like to tell, family photos they'd like to share, and, of course, something to do as other capacities diminish. Perhaps the web is a place where such a practice could grow.
---
Click here to go to next page.
Click here to return to home page.