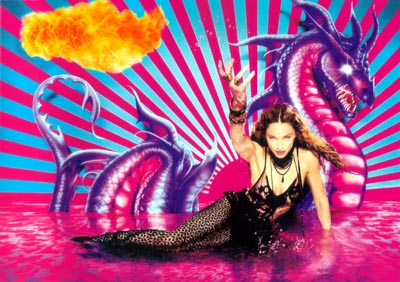 Purple Dragon, Fireball and Madonna, C-Print 1998
[ more pictures ]
Visionary photographer David LaChapelle will be having a solo exhibition of new photographs at the Tony Shafrazi Gallery. His startling images, gorgeous and bizarre, have been featured in Rolling Stone, Interview, Vanity Fair, Paris Vogue, ID and The Face among others. The photographs are color soaked, surreal portraits that mix glamour with fantasy. "I like to see outrageousness and sexiness and things that are out of control, I like to make people larger than life", he admits. The exhibition will include images from LaChapelle's new book, Hotel LaChapelle (Bullfinch Press/Callaway, October 1999)
with a mix of models and celebrities such as Madonna, Leonardo DiCaprio, Uma Thurman, Elton John and Cher.
Outrageous and wildly colorful, LaChapelle has changed the look of photography and has created some of the most powerful visual statements of our time. Influenced by the imaginations of painters like Magritte and filmmakers like Fellini, his subjects often look as though they have been transported to otherworldly settings. According to LaChapelle, "My pictures are about getting as far away from reality as possible. Dreams should be part of our everyday life".
LaChapelle studied fine art at the North Carolina School of the Arts, and then in New York at the Art Students League and the School of Visual Arts. His first professional job at the age of 18 was shooting for Andy Warhol's Interview Magazine. His photographs have been exhibited in the 1998 Recontres Internationales de la Photographie in Arles, France and the Palace Pombal in Lisbon, Portugal. His recent exhibition at the Palazzo delle Esposizioni in Rome, Italy will travel until 2002 through out Europe.
Please contact Hiroko Onoda at 212.274.9300 for further information.